My 8 years (& more) journey in Decathlon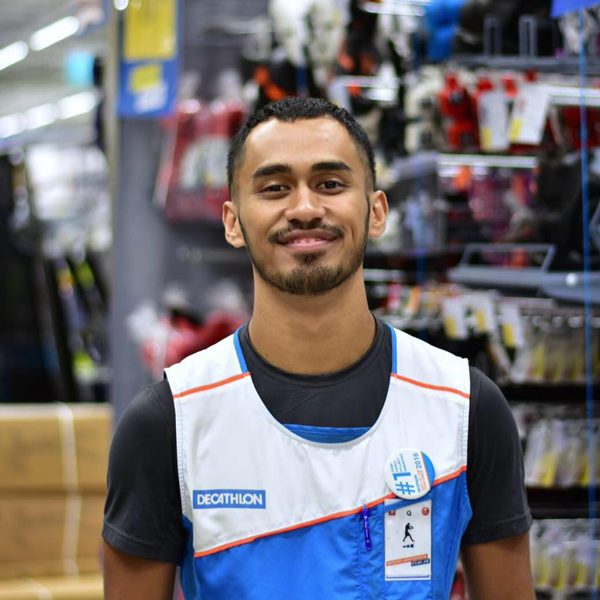 I started my Decathlon journey in 2014 as a Logistics Officer at the warehouse. This was after my time in National Service where sports was ingrained in me, and I felt strongly connected to Decathlon's purpose:
To make sports available to the many
After a year in the Warehouse, I took the decision to join the Retail team at our first Experience Brick & Mortar store - Decathlon Bedok, where I spent a few months in Watersports and then to Fitness as my passion sport was Combat Sports and Jiujitsu. It was a joy for me to be part of the team as I was able to share my knowledge sincerely, and to advise our customers on what they ACTUALLY need to enjoy the sport and not simply the most expensive product. My Department Manager empowered me to manage the economic performance of my sport perimeter. I recall going out of my comfort zone by organizing our first ever Judo event at our Chai Chee store, which was one of the toughest challenges but it allowed our customers to experience a different sport which I found so fulfilling and memorable.
After a year of success in both economic and human performances in the Bedok store, I was invited to become a Department Manager in the flagship Singapore Lab store, leading the Watersports team. It was a year of experimenting the business development methodology and methods of approaching our customers, even if it was a simple 'hello' or 'how was your day today?'. This is why I loved being part of Decathlon, to have the autonomy to take decisions and actions while respecting the playing field. To offer an unforgettable experience to our customers and to encourage them to come back in the future.
At Singapore Lab, I also transited to lead the Urban and Fitness Department respectively. Being a hiring leader of my department, it was a unique experience to hire individuals of various backgrounds, even one who was an ex-offender. Decathlon is all about inclusivity, we hire our future teammates based on their passion for sports and their personality. We also offer inhouse training so our teammates can perform and excel in their role tomorrow. In 2021, I was also the User Happiness Centre Leader for the store, providing After Sales support for our customers.
Today, I am part of the HR team, leading one of our unique hiring processes known as Collective Recruitment, including coordination of the internship attachments with ITE institutions. I find purpose in being able to interact with candidates and sharing who and why Decathlon is here today, Decathlon is here for a long time, so come onboard and be part of this Blue Family today!