Panmeline's Decathlon journey from Retail to Logistics now to Ecommerce!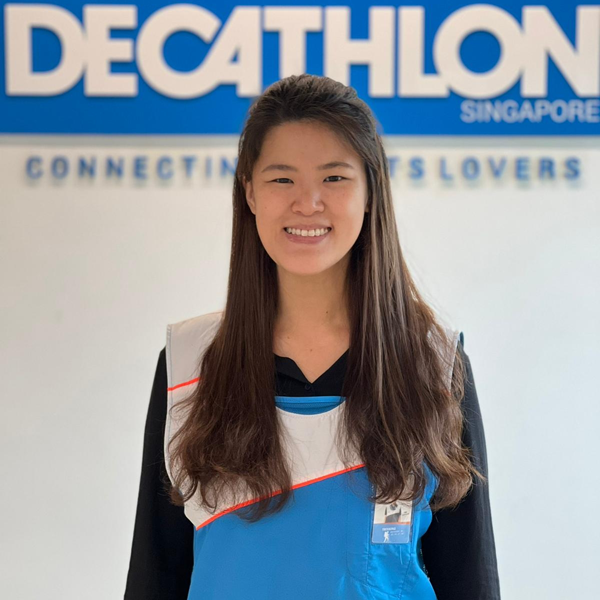 I remember back in 2016, i was passing by the first store of Decathlon and I go "Oh what is this new store about?"
Passionated about sports, I went ahead to apply as a prt time retail sports advisor/ cashier while still persuing my degree. Fast forward to my first day at work, it was scary as I do not know what to expect. However, my first month of work went by like a breeze! Everyone was welcoming as my teammates are of the same age and passionate about sports. Even though speaking to customer was also my passion but I am even more passionate about basketball! Being so passionate about my sports, I told my coach on my project, wanting to be closer to my passion sports, meaning to join the team sports department. So I can also share my experience with our customers and share with them what to expect while picking up new sports. Being in the teamsports department for 2.5 years, I picked up new knowledge and experiences by joining the Decathlon academy on the different topics related to products and the layout.
Little do I know, by sharing my professional dreams and passion with my coach also leads me to my next step in my professional life. With the potential move of our warehouse from Singapore to Malaysia, I was offered to join the logistics team to move the warehouse and also to become the logistics coordinator among the warehouse and the different Decathlon countries. I then was given the opportinity to move from Singapore to Malaysia as the pinoor team to help setting up our own warehouse, coaching, redefining processes and training the new team. One of my biggest movement was to implement automation in the warehouse. With the trust of my coach and the stakeholders, I was given the opportunity to dream big and to see how automation can help to growth our business. After spending 3 years in Malaysia, I felt that it was time to come back home in Singapore. I shared my dreams again with my coach and 4 months later, i had the chance to move back to Singapore and to managing the wonderful ever growing ecommerce operations.
All in all, 2018 to 2020 growth in terms of my individual development was one of the greatest growth so far! I have grew to become someone more mature in making decisions and emotions, which also leads me to more opportunity in Decathlon. In Decathlon I was also given the trust and opportunities to try, to learn and to have fun!